Description
FEATURES:
Brief Introduction of Our Gel Balm Filling Capping Machine:
Gel Balm Filling Capping Machine Can Fill Glass bottles and plastic bottles. It Suitable for filling cosmetics, light industry (daily chemical industry), pharmaceutical, food and other industries. Such as cream, ointment, cream, gel or viscous fluid.
This machine meets the gmp requirements of food and medicine, and the machine is reliable. It can be synchronized to complete filling, pre-spinning, capping and feeding, more convenient.
Gel Balm Filling Capping Machine using round turn plate so that three functions can be carried onone machine.After filling, the machine heats up and cuts the film. Then cover the lid with a manipulator and tighten it with a cylinder.Depending on the jar size, the astrolabe also needs to be resized. This machine adopts touch screen, PLC control machine, all operations can be completed on the touch screen, more simple and clear. And During the filling process, if the machine does not sense the jar, it will not fill.
Five Competitive Edges of Our Gel Balm Filling Capping Machine:
1.When filling the material of the machine, use the special PTFE pipe of the pump. It uses a plunger pump for filling, which is very good for adjusting the filling volume and speed.
2.The filling head can be easily disassembled, cleaned and sterilized.
3.The plunger pump is used for filling to control the thick material. It uses lifting filling, the filling head can be inserted into the bottle, and the efficiency of filling materials is very high. It uses a servo motor to control the nut, which can directly adjust the speed of the nut and the torque of the screw cap by touching the screen. The machine uses a pre rotating device, which can seal the cover efficiently and successfully.
4.The machine uses PLC automatic control system and stainless steel materials. Once there is a problem, it will automatically give an alarm and shut down automatically.
5.It has a compact structure and can be filled to the cover in 0.5s at the fastest. The machine is simple and easy to operate. Torque setting, nut speed setting, machine production speed setting, display problems and completed workload will appear directly on the operation panel. You can directly adjust parameters on the panel, such as filling volume, filling speed, capping speed and torque nut.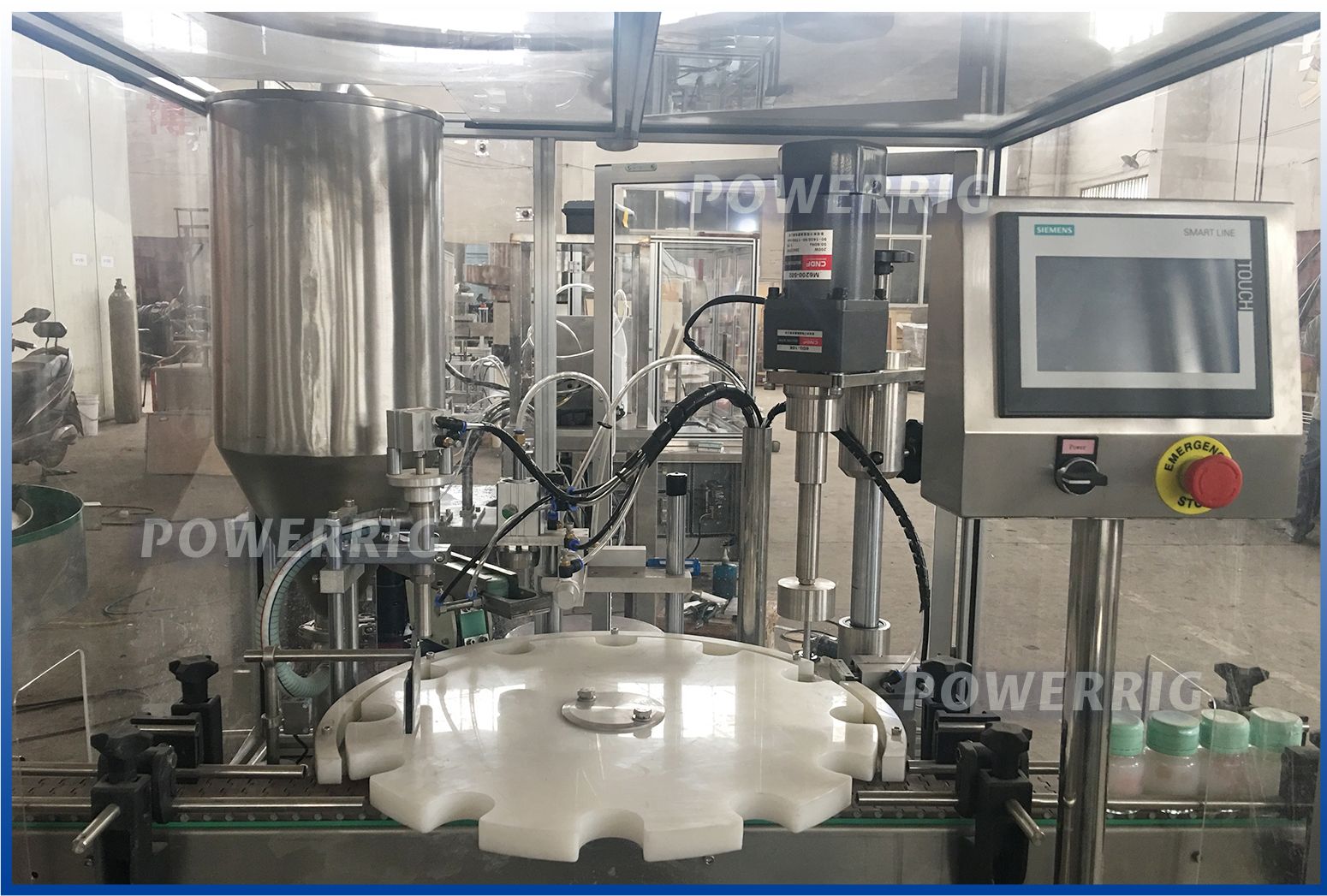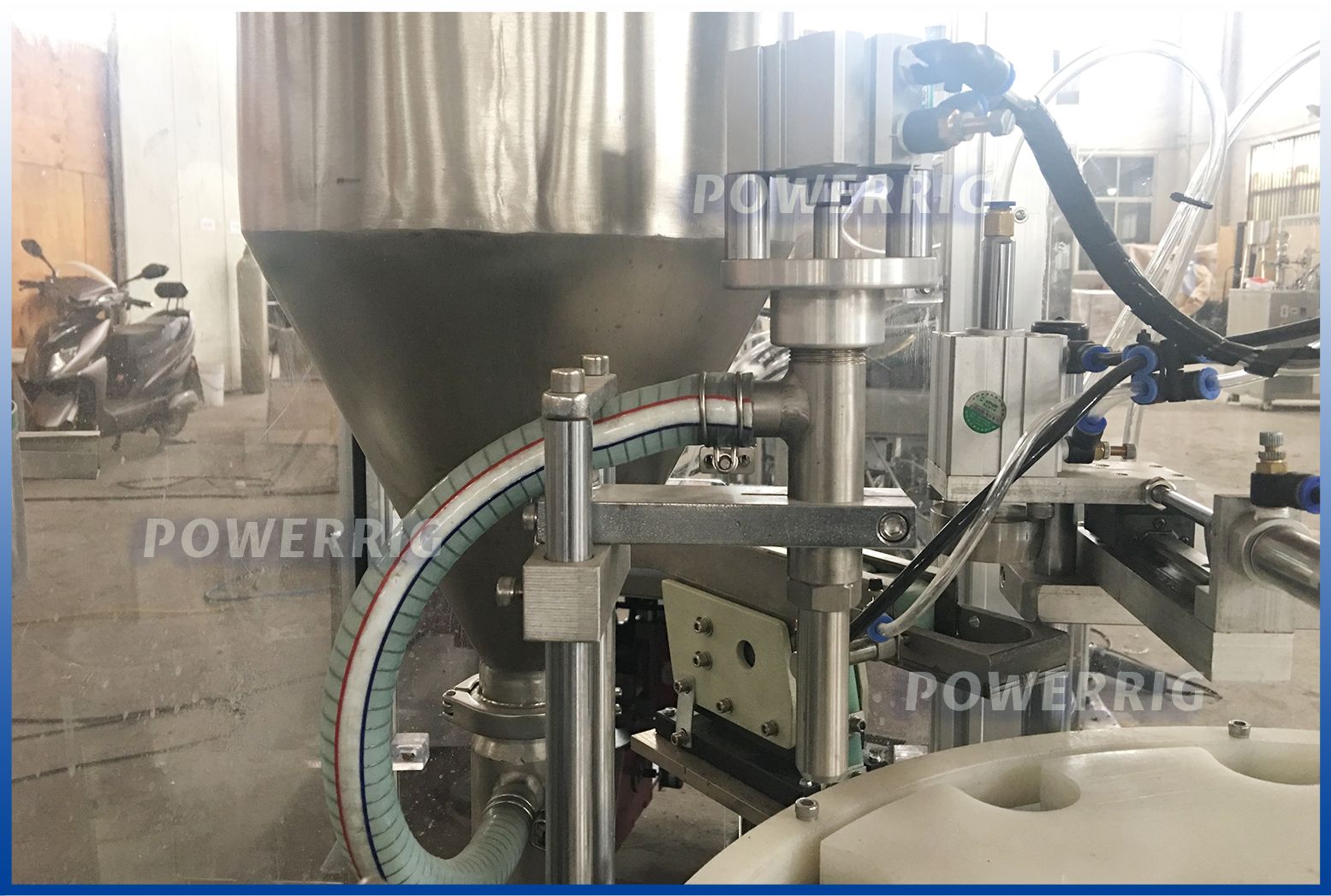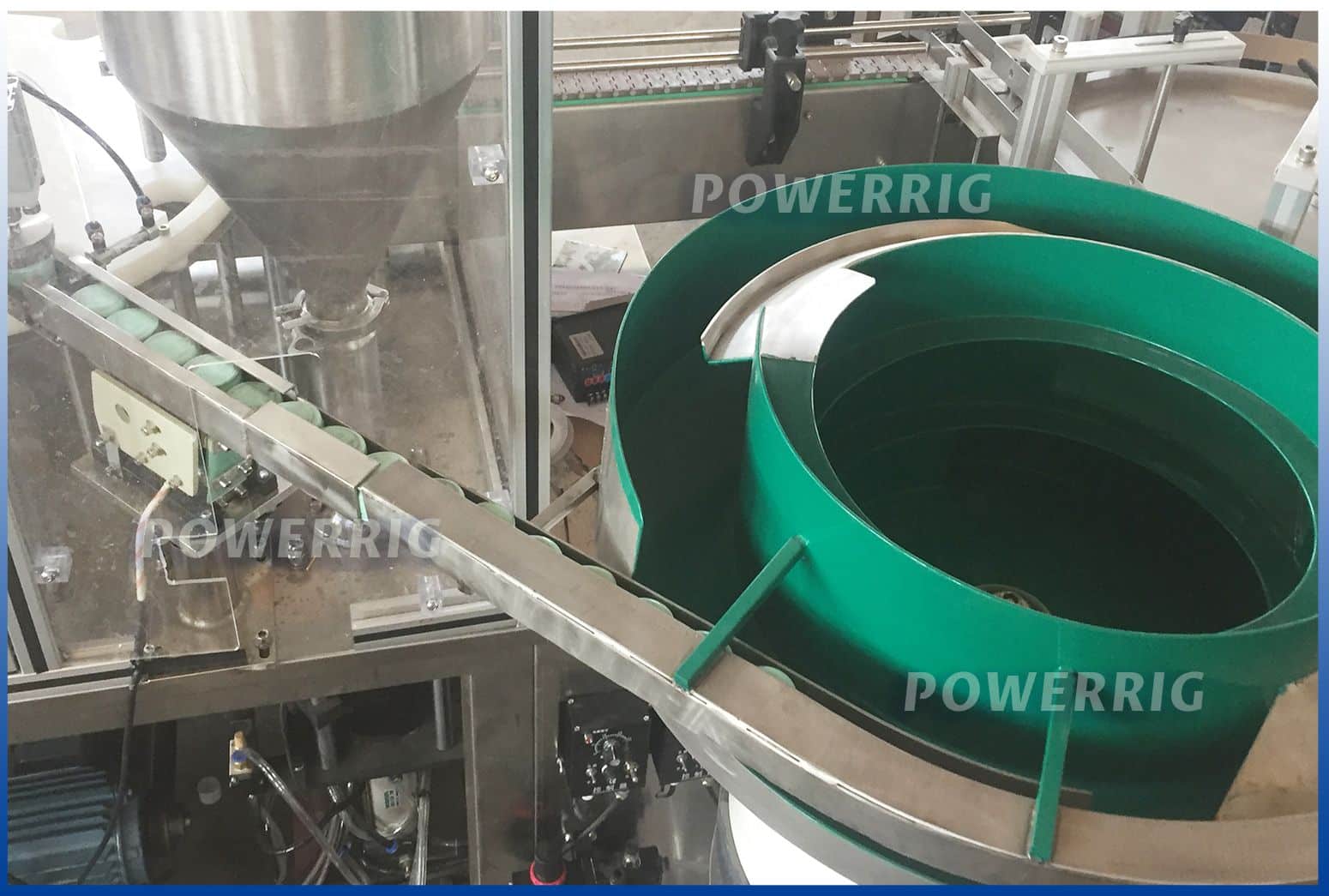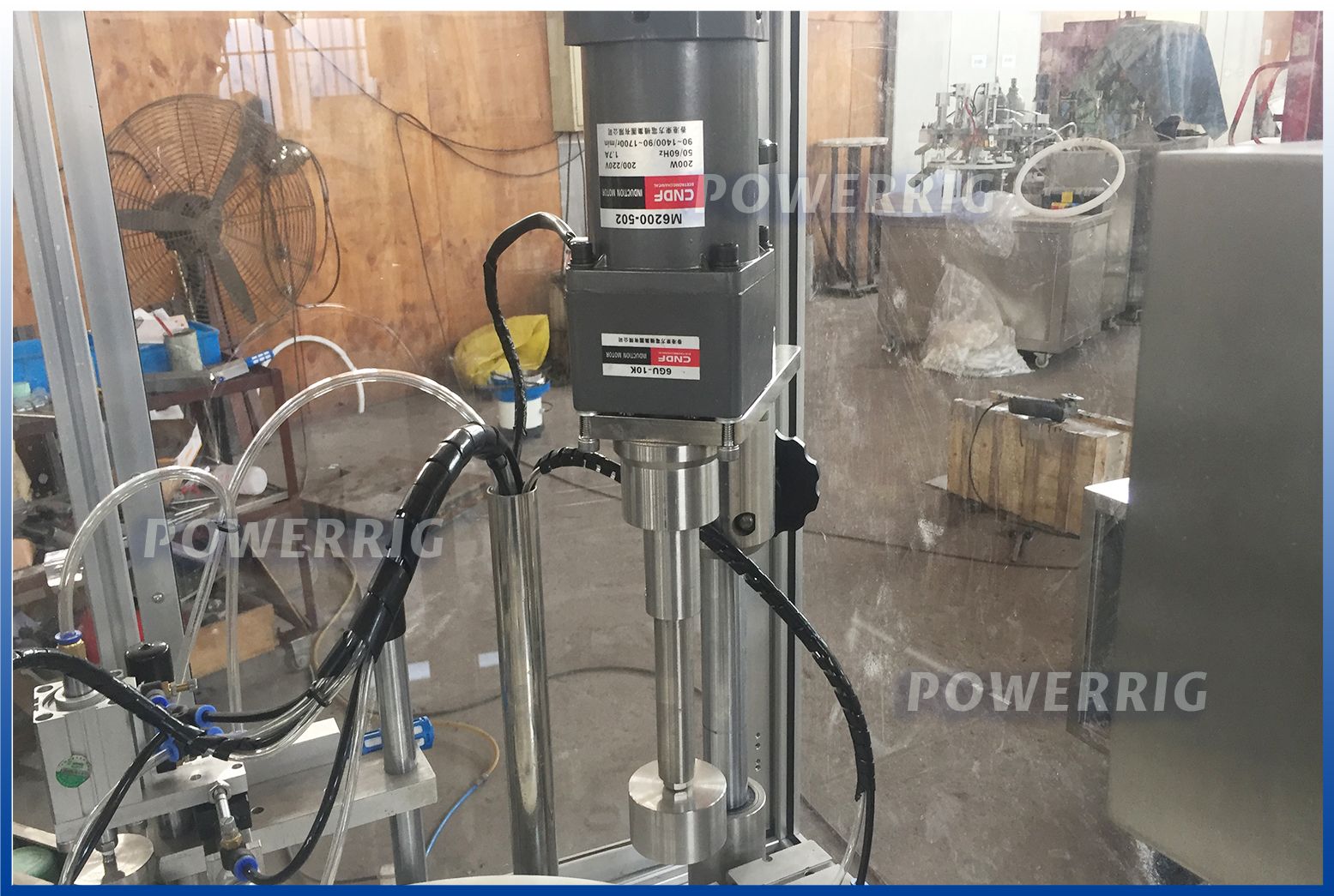 | | |
| --- | --- |
| Suitable Filling Volume | 20-100ml |
| Production Speed | 30-40 Bottles/min |
| Filling Accuracy | ≤±1% |
| Voltage | 220V/50Hz Single Phase |
| Spain Rolling Cover Rate | ≥99% |
| Automatic Loading Brush Rate | ≥99% |
| Air Source | 2 m³/h 0.4-0.8Mpa |
| Power | 2kw |
| Machine Weight | 500kg |
| Size | 1530*2990*1500mm |
| | |
| --- | --- |
| Parts | Brand |
| PLC Programmable Logic Controller | Delta Taiwan |
| PLC Module | Delta Taiwan |
| Touch Screen | Taiwan Taian |
| Main Motor | Taiwan Leeming |
| Conveyance Motor | Xiamen Lapping |
| AC Contactor | Schneider |
| Intermediate Relay | Schneider |
| Power Indicator | Schneider |
| Photoelectric Sensors | Sick |
| The Electromagnetic Valve | Explosion-proof Solenoid Valves |
| Switching Power Supply | Ming Wei |
| Inverter | Delta Taiwan |
| Pneumatic Components | AirTAC |
| Barometer | AirTAC |
| Regulator Filter | AirTAC |