Description
Brief Introduction of Our 10L Vacuum Mixer Homogenizer Machine:
It is made up of oil tank, water tank, vacuum homogenizing emulsifier, heating system, mixing system, vacuum system, electric lifting system, operation control cabinet and pipeline system. It is very suitable for producing high-grade skin care products or other skin care products.
Some Details of Our 10L Vacuum Mixer Homogenizer Machine:
1.The overall size is 2600mm × 1900mm × 2500-3500mm, 1800mm for oil tank × 800mm × 1200mm.
2.The inner wall, sheath and outer layer are made of 304 stainless steel, polished inside and outside, and the surface is subject to special light treatment.
3.The oil tank capacity is 5L; The water tank capacity is 7L; The capacity of primary tank is 13L and the working volume is 10L; The limit vacuum is -0.09mpa.
4.Double layer oil tank and water tank, with inner, middle and outer thickness of 3mm.
5.The mezzanine electric heating power of the heating system is 2kW. For heat insulation, the outer layer is covered with asbestos, which can reduce heat loss and avoid scalding employees.
6.The oil tank and water tank of the hybrid system are equipped with a 0.55KW disperser to heat the water and oil faster and more evenly.
7. The vacuum emulsifying pot is made of three layers of stainless steel. The thickness of the interlayer is 3mm, the thickness of the middle layer is 3mm, and the thickness of the outer layer is 2mm. Special light treatment is carried out.
8.The homogenizer can adjust the time setting according to the homogenization needs of the product. It is on the top of the emulsion tank, with a voltage of 380V and a power of 0.75KW. The product is made in Shanghai, using German technology, and the maximum speed is 2800 rpm. The high-speed movement of materials between rotor and stator can produce strong hydraulic shear force to separate boredom, and produce centrifugal force to squeeze, grind and crush materials, and finally mix, stir and reduce the materials to the required product requirements.
9.The voltage of the vacuum system is 380V and the power is 0.55KW. The materials in the water tank and oil tank are absorbed into the main tank in vacuum. Shanghai haibokang company manufactures rotary vane pump, which removes bubbles and improves homogenization effect. (water circulation cooling)
10.8kw electric heating device is installed at the bottom of the heating system. The temperature will be displayed during heating, which is very convenient to control.
11.The voltage of the mixing system is 380V, the power is 0.55KW, and the speed is 10 to 120 revolutions per minute. It is monitored by transparent filter, and the interlayer is scraped during mixing. The speed is variable frequency speed regulation.
12.The voltage of electric lifting is 380V and the power is 2KW. The operation of the machine is highly recommended, so the material can be effectively emulsified under closed conditions.
13.The control system has digital time relay device, which can adjust different time and speed according to different materials. All the control buttons are put together, which is very clear.143325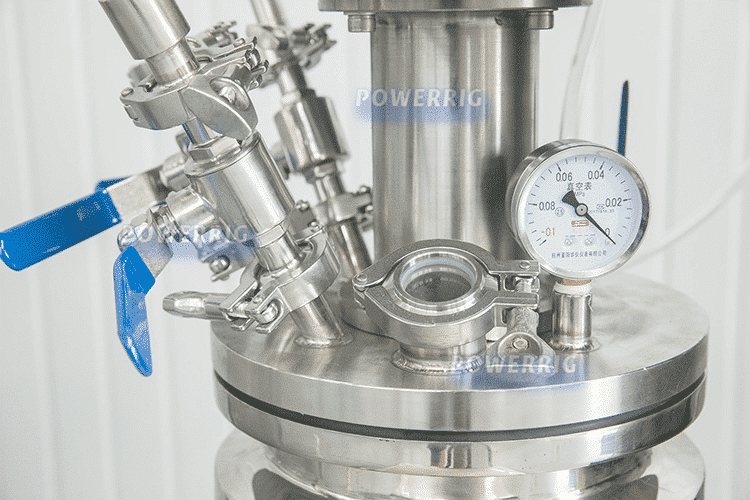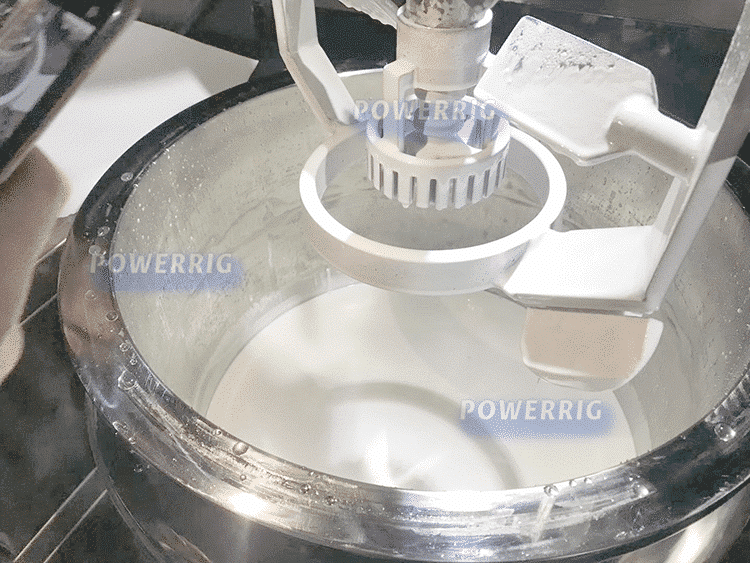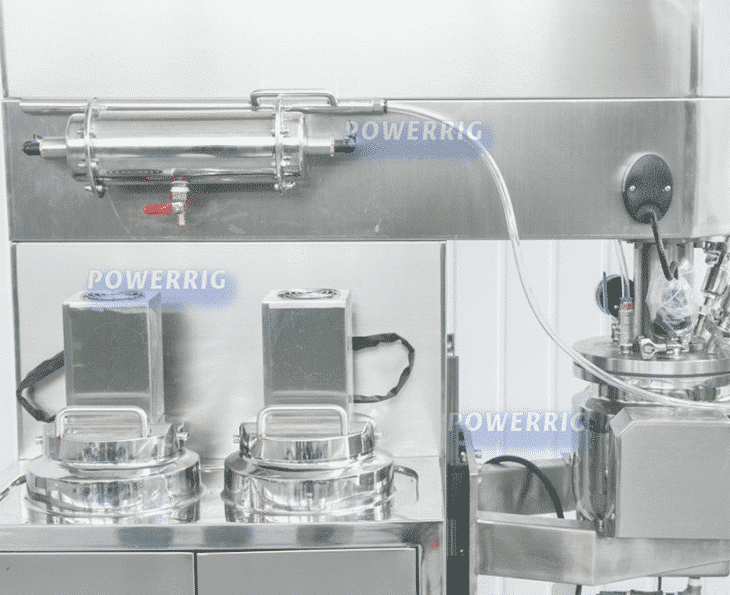 Vacuum Homogenizer Mixer

 Model

10L

30L 

50L 

100L 

150L 

200L 

300L 

500L 

600L 

1000L 

 Working Capaicty

10 
30 
50 
100 
150 
200 
300 
500 
600 
1000 

Emulsify 

KW 

 0.75
 1.1
 2.2
3 
4 
4 
 4
 7.5
11 
11 

Min/r

0-2800 
 0-2900
 0-2800 
 0-2800 
 0-2800 
0-2800  
0-2900 
0-3500 
0-3500 
0-3500 

Agitator

 KW

0.55 
 1.1
1.1 
1.1 
1.5 
1.5 
2.2 
2.2 
4 
4 

 Min/r

10-120 
 10-120 
 10-120 
 10-120 
 10-120 
 10-120 
10-120  
 10-120 
10-120  
10-120  

Machine Dimension

 Length

1100 
 1650
 1500
 1700
 1100
 2600
 1100
 3000
 3000
 4800

Width 

 600
 600
 600
 650
 600
 1900
600 
2500 
1300 
3000 

 Height

1500 
 1700-2300
1900-2500 
 1700-2700
1700-2700 
2500-3500 
2500-3500 
3200-4500 
3200-4500 
 2500-3850
| | |
| --- | --- |
| Inverter | Taian ( Taiwan ) |
| Motor | Huadiao ( Nanjing ) |
| Reducer | Jiahe ( Zhejiang) |
| Vacuum | Boer Kang ( Shanghai ) |
| 304 Stainless Steel | Taigang ( Tianjin ) |
| Main Electrical Components | Zhengtai ( Zhejiang ) |